In 2019, ALT Sales Corp. earned the Elite Dealer status from National Crane by Manitowoc. It's a prestigious designation, one that has been earned by just two dozen other dealers throughout all of North America. The honored status recognizes the hard work of ALT Sales Corp. and its entire staff, who prepared for over three years to create practices and efficiencies that demonstrably benefit customers through increased machine uptime.
Market Strengths
Sometimes called "cherry pickers", boom trucks are the most popular of heavy lift equipment.
With their compact size and ability to maneuver in hard to access sites, they're the equipment of choice for utility and phone line work, lighting and sign maintenance (both on and off the highways), tree care, exterior painting, and more. On major construction sites, the boom truck is the perfect support unit – excellent for staging materials and making quick lifts across the entire site.
Power generators and utilities alike drive the demand for boom trucks, including power distribution and oil/ gas recovery. The energy companies use large capacity boom trucks with 45-70 ton capabilities and high reach platforms to install electric transmission lines or work on phone lines. Gas drillers love the flexibility of using boom trucks to lift and set pipe.
As the economy has improved, so has small, urban construction including housing and retail. On these sites, brick and block, precast, and sign erection are perfect applications for boom trucks. Delivery of drywall supply, sand and gravel, and concrete precast is easily completed with the right boom truck.
Boom trucks can be outfitted with a variety of options, including one and two-man baskets, winches, and remotes for one-man operations.
Customers can choose from hundreds of ready-to-work boom trucks. Inventory ranges from 10-ton to 80-ton capacities, with up to 155 feet of hydraulic boom and optional jibs up to 202 feet of working height. But the best boom truck is the one built just for you.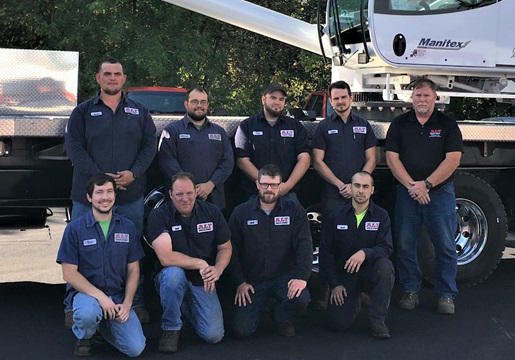 ---
About the ALL Family of Companies
The ALL Family has been a trusted industry leader for more than 50 years. Whenever you buy or rent equipment from ALL Aerials, or any member of the ALL Family, you are guaranteed the peace of mind that comes from working with people who have decades of experience and a genuine enthusiasm for what they do.

The ALL Family has more than 1,500 employees who provide outstanding levels of customer service for every job. Each branch is equipped with a fleet of service trucks, prepared to support immediate needs of customers. For delivering and picking up rental equipment, ALL maintains its own transportation fleet of 400+ tractors and 2,000+ trailers.

Visit the ALL Family of Companies website to learn more about what we can do for your equipment needs.
Visit ALLCrane.com